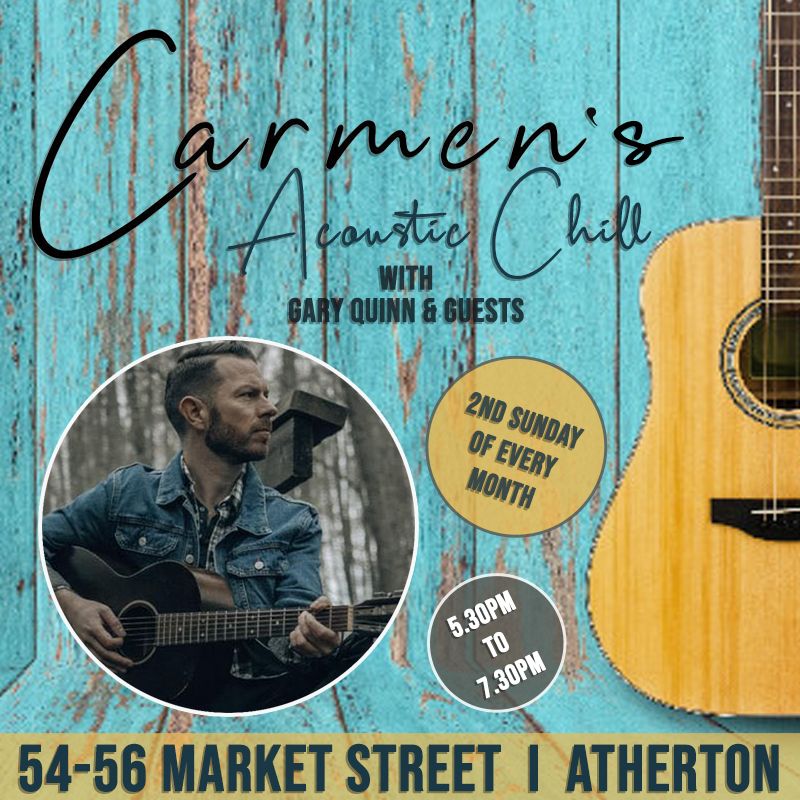 CARMEN'S ACOUCTIC CHILL
with host GARY QUINN
I'm delighted to be partnering up with the wonderful 'Carmen Bar & Eatery' based in Atherton, Gtr Manchester. I have been looking to curate and host an afternoon for singer-songwriters for quite a while now locally to me. I believe the venue and it's setting coupled with a shared vision with my good friends at 'Carmen Bar & Eatery' will result in a great afternoon of acoustic music on the second Sunday of each month.
As host, I plan to invite two or three guests to perform at each 'Carmen's Acoustic Chill' event and provide a platform for singer-songwriters to play their original material with a sprinkling of covers too should you want to. If you would like to be considered as a performer for a future 'Carmen's Acoustic Chill' then please complete the contact form below. (Please be aware that responses will only be given to successful applicants.)
Further info:
Each performer will be required to play for 35 minutes.
Mostly original material to be performed (max 2 covers).
Compensation towards travel and performing will be provided on each individual basis.
In house PA provided so just bring your instrument to plug in and play.
Please contact the venue if you need to reserve a table for any guests accompanying you (current COVID restrictions apply).
Travel:
Carmen Bar & Eatery, Atherton, Gtr Manchester, M46 0DP
Parking available on Eckersley Precint, Mealhouse Lane, Atherton, M46 0DR
Atherton train station is 15-minute walk. You can catch a 582 Bus to Atherton from the train station.
Past Acoustic Chill Evenings