BIOGRAPHY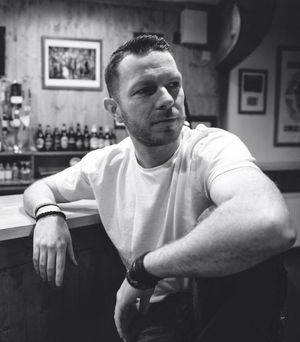 "If there's a writer from this side of the pond capable of a career as a tunesmith on Music Row Gary Quinn is it…" Duncan Warwick - Editor of Country Music People
A 5 time British Country Music Association Awards winner including most recently retaining 'Male Vocalist of the Year 2017' and previously 'UK Songwriter of the Year' and consecutive 'Song of the Year' honours, Northern Irishman Gary Quinn has become one of British country music's more established performers. Quinn cites U.S. country artists such as Garth Brooks and Brad Paisley as influences, has toured with Phil Vassar and shared the stage with acts such as Kristian Bush, Sarah Darling and hall of fame songwriter Bob DiPiero. An accomplished performer, Quinn is just as comfortable with a pen in his hand and has recently collaborated with Grand Ole Opry member and Grammy winner Steve Wariner as well as Benita Hill (Garth Brooks), Jenn Bostic and David C Banning (Joey & Rory, Chris Cagle).
Having garnered international praise and an array of awards for his eponymous debut self-titled album, Gary teased the release of his new body of work with the single 'Shame' that was premiered by The Boot.com earlier this year and went on to debut at no.7 in the UK iTunes country chart. 'Shame' set the tone for the multi-award winner's most personally insightful release entitled 'I Remember' which debuted at no.5 in the UK iTunes country chart. Quinn's work stills sees regular radio airplay on the BBC and many of the top country stations in the UK and around the world including Chris Country, Downtown Radio, Nixa Country and 2Country Radio.
"Gary is just what the UK country music scene needs - someone who is passionate about modern country music, yet respectful of its traditions…" Allan Watkiss - CMA International Broadcaster & Director of UKCountryRadio.com
Quinn and his band have performed at one of Europe's most prestigious country festivals 'Country2Country' in London on numerous occasions, The Long Road Festival and Manchester's 'Buckle & Boots' as well as festivals the length and breadth of the UK and Europe. Additional to his live appearances Quinn can be seen regularly on TV with his videos receiving airtime on regional and international TV programmes. Gary recently returned from Nashville having been invited to appear on Phil Vassar's 'Songs From The Cellar' TV show recorded live from Phil's home in Tennessee.
"A modern country sound with echoes of the past..." Country Music People Magazine – UK
A regular performer at the Belfast Nashville Songwriters Festival, he has performed alongside Nashville recording artists Carlene Carter, John Brannen and Nanci Griffith as well as opening for a CMA Songwriter Series show that included Clint Black and Bill Anderson. Quinn is also no stranger to performing in Nashville having played the CMA Music Fest and the CMA Global Artist Party at iconic venue 'The Stage' on Broadway.
Gary has played support slots for touring US artists Collin Raye, Larry Gatlin, Will Hoge, Aaron Watson, Wade Bowen and Gene Watson.
"He's wonderful, he's really good…" Kristian Bush – Sugarland.

AWARDS:
2017 -   British Country Music Association Awards - 'Male Vocalist of the Year'
2017 -   UK Country Music Awards – 'Male Singer of the Year'
2016 -   British Country Music Association Awards - 'Male Vocalist of the Year'
2014 -   British Country Music Awards - 'UK Song of the Year' - 'The Power Of Me And You'
(G. Quinn & D. C. Banning)
2014 -   British Country Music Awards - 'Songwriter of the Year'
2013 -   British Country Music Awards - 'UK Song of the Year' - 'He Don't Show Her Anymore'
(G.Quinn)

 
Other Quotes:
 
"Gary has an engaging country voice and style. Emotional with shades, to these ears at least, of Dan Seals and Kristofferson (one of his earliest influences) in there and he certainly sings straight from the heart. His compositions are superbly crafted - poignant and at times haunting.."
David Allan – Country Music People Magazine
 
"I can only see great things in future for Gary Quinn, his album is a first class collection from an emerging British talent"
B J Thomas (Up Country Magazine)